As I mentioned in my previous post, I have been working on losing some weight and getting into shape. In order to accomplish this, I have been running consistently for the last 2 weeks and shaved my mile time down from 13 mins (& dying) to 10 mins (& dying less while also not stopping)!
Holla at'cha girl!

So today was the day that we (sissy came, too!) stepped it up a notch. That's because, for the first time, we went to Zumba.
And ohmigoodness. It was intense!
Our Zumba class was a high energy, fast paced environment with probably 30 or more women shaking their groove things. I'm serious, they were getting low, pop, lock and droppin' it and howling like animal-mals.
I'm not sure how long this class has been going on for, but long enough that 85% of the women knew what the dance moves were. So while they were werking it, I was hittin' them with one of these…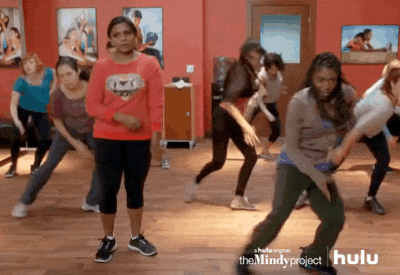 Send help tomorrow morning. I don't know if my legs will work.